This is the list of all contributions published in this section, in chronological order.


Hey Folks.
I'll be playing @ Frankfurt Musikmesse (DE) on Friday 13th April and Saturday 14th April.
I'll be playing at the 3DVarius booth, jamming with my bud Laurent Bernadac.
These are the times of my performances:
Look foward to see ya there...
During a break from my latest Italian tour me and Dave have been doing some profiling for my signature kemper sound pack which will be released by Rigbusters Kemper Profiles.
Here is "The making of..."
We've been using different amps and combinations of tube and digital amps.
Soon I'll post a couple of playthrough videos in order to show the quality of those sound presets.
This documentary is in Italian so please feel free to use the Youtube translation.
  Hey people, I've been all over the place for the latest 2 months now.
  Here's a report of my latest US experience, Namm 2018 in L.A. & The Noiz Faktory Recording in Texas.
  To be continued with episode II...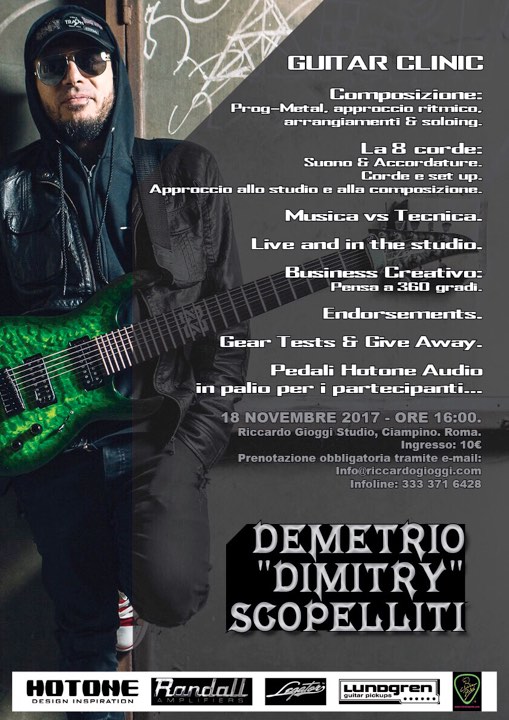 Guitar Clinic 18 Novembre 2017 ore 16:00
nello studio di Riccardo Gioggi, Ciampino Roma
Argomenti:
Composizione
Prog-Metal, approccio ritmico, arrangiamenti & soloing
La 8 corde
Suono, accordature, corde e set up Approccio allo studio e alla composizione
Musica vs Tecnica
Live and in the studio
Business Creativo: Pensa a 360 gradi
Endorsements
Gear Tests & Give Away
Pedali Hotone Audio in palio per i partecipanti...
18 Novembre 2017 - Ore 16:00 - Riccardo Gioggi Studio, Ciampino, Roma
Prenotazione obbligatoria via e-mail a: info@riccardogioggi.com
Infoline: 333 371 6428 - Ingresso: 10€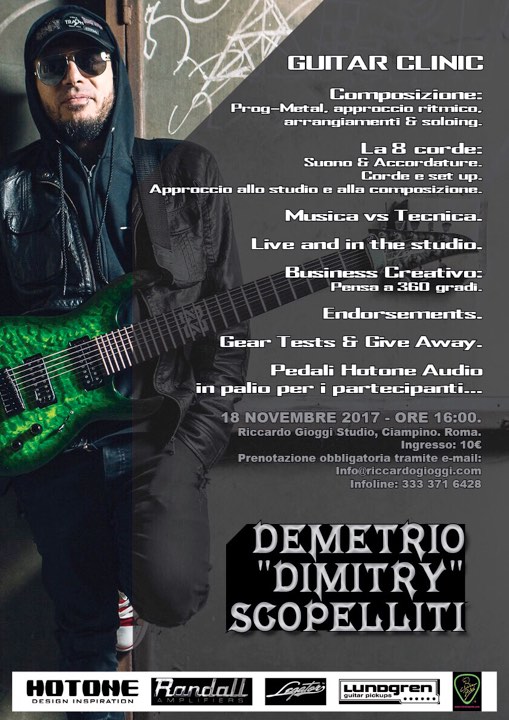 &nbsp
Visitors since 11 Apr, 2009:
3177323

NOVEMBER 2018
Hey folks.
I've just come back from a super successful tour in China.
I've been all over the place for 3 weeks, some of the cities I've been gigging in were Shanghai (I played my second year at the mighty "Music China" (musikmesse), Changsha, Guangzhou, Nanning, Guilin, Xiangtan.
The reaction of people was super awesome and I'll look foward to be back in China for the next tour.
You can check pics & video of the tour.
Once back my new album "The Silent Watcher" has been released and I played the release party in my "hometown" Skien as guest at a new international festival called "Kulturkræsj".
You can listen and buy the album on Itunes, Bandcamp, and many other digital platforms.
I'm still busy recording for a new exciting project that I'll reveal in the next few weeks. In the meanwhile I hope to see you on the road.
Have a good one.
Cheers







Rate my music from 1 to 5
23/01/2019 @ 07:22:07
script executed in 70 ms