OCTOBER 2018
Hey people, I'll be back to China again this year but this time for a longer tour.
Here are are the dates, both at Music China 2018, Shanghai - China for some performances on the stage outdoors and at the Hotone Audio's booth.
After Music China I'll be travelling around in China for some gigs.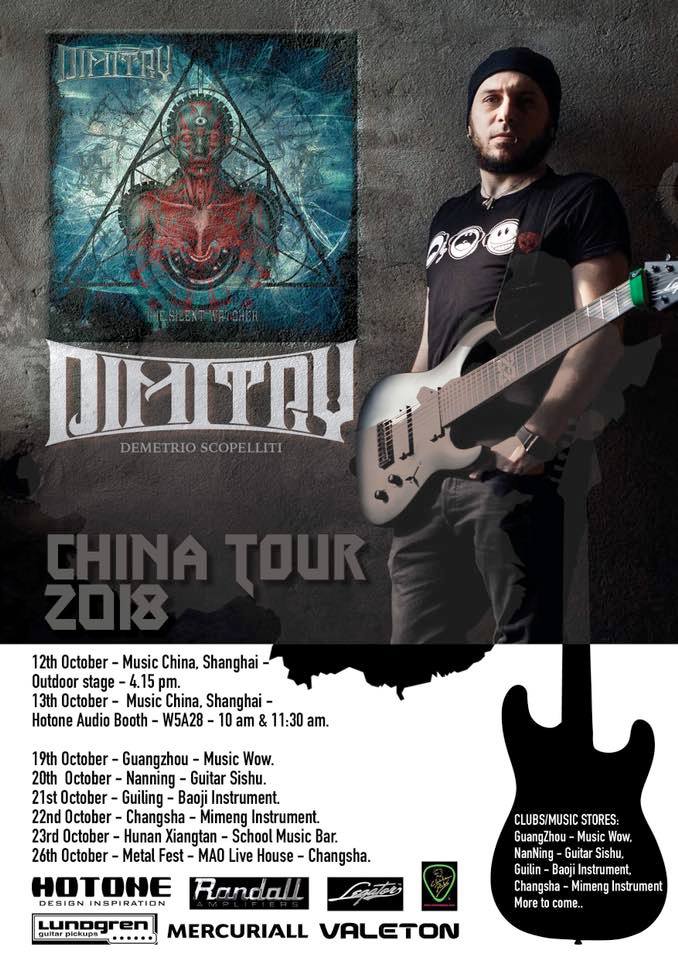 And here is the poster for my Chinese fans...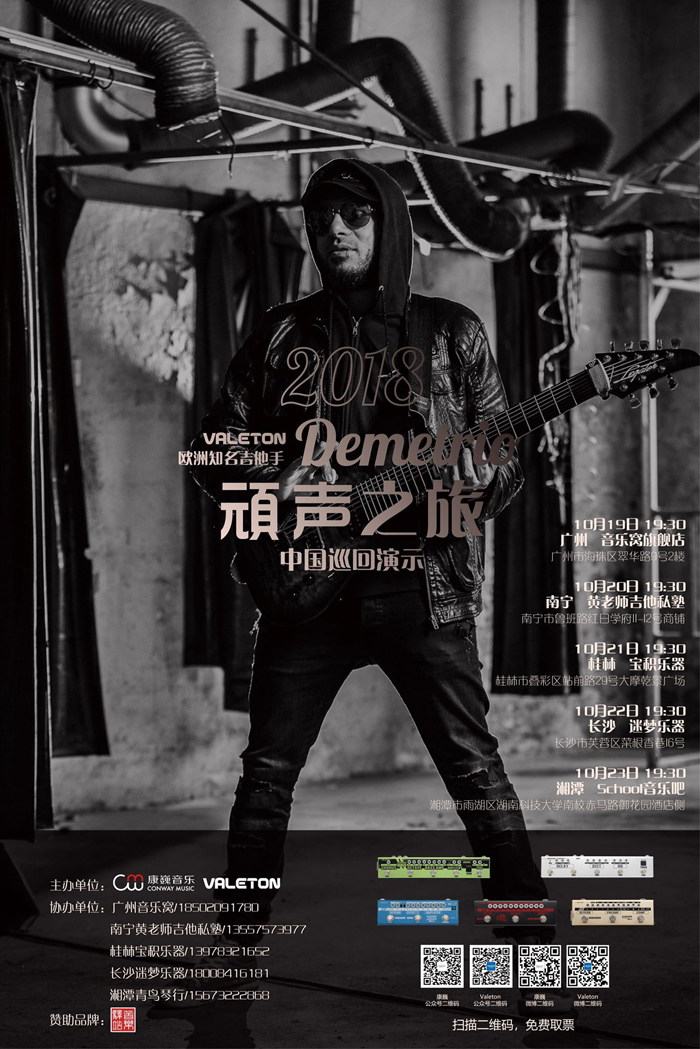 You can now stream and download "The Silent Watcher" (single track) on Spotify, Itunes and all the main digital platform on the web.
Playing on this song, apart from me and my awesome musicians (Fabio Decovich on bass and Enzo Rotondaro on drums), we can find the swedish guitar god Mattias IA Eklundh on some solos.
We remind that the full length album will be released on November 5th and will feature some of the world class musicians as Marco Minnemann on drums, Jørgen Munkeby and many others.
Here the links to the song:
The Silent Watcher (single track) on Spotify
The Silent Watcher (single track) on Itunes
Stay tuned for some awesome news.
  AUGUST 2018  
Press Release TSW
I am very proud to announce that my new solo album "The Silent Watcher" is gonna be released on November 4th 2018.
Some of the guests on the album are: Marco Minnemann (Joe Satriani, Dream Theater audition, The Aristocrats, Steven Wilson), Mattias IA Eklundh, Jørgen Munkeby (Shining, No) and many others...
Together with me playing on the album Fabio Decovich on bass and Enzo Rotondaro on drums.
The album will be available for download and streaming on all the major digital music stores as Itunes, Apple Music, Spotify etc...
  JUNE 2018  
I am very proud to announce that I am now a "Mercuriall Audio" artist.
Mercuriall is an awesome company based in Russia, delivering the best guitar plug in I've tried so far.
Click here to check out
my "debut" demo for
Mercuriall Audio.
I'll make a long series of videos showing all those amp emulator plugins can do. Make sure you subscribe my YT Channel.
My new upcoming album "The Silent Watcher" is being mastered while we're speaking.
I'll come up soon with some more news about which record label is gonna release it and the exact release date & distribution.
As I mentioned last month I'm starting recording soon a new album for a "top secret" supergroup. More news about it to follow soon as well as videos.
  MAY 2018  
Hey! Some news from my side...
Out today my Kemper Signature Sound Pack!
You can buy that HERE!
Check out some of the profiles on this video!
All those profiles have been done together with my favorite sound engineer Davide Castagnone.
My new full length album: "The Silent Watcher" is at its final stage of the mixing process. It will be mastered soon and the release date will be communicated soon.
This time the album will be released in different formats, not in the traditional way. More news on this topic coming soon.
I'm also starting a new album with a "new" band in June, in this case the whole recording process will be taped on camera. Perhaps for a future video release?
I am shooting the official videos for every single track of my previous album: "The Art Of Complications" which includes on every single video the tabs of the guitar parts, so any of you, shredding guitar players, can learn the songs exactly how I play them. Keep an eye on my YT channel; I'll be releasing a new video every week or so.
I have been guest on the album of a band from China/US called "Mainframe". I did record all the guitars on the song "Peter".
  MARCH-APRIL 2018  
Hi Folks.
Many things going on here at the D.S. Camp in Norway. I'm getting ready for the Frankfurt Musikmesse 2018.
I'll be playing at the 3DVarius booth jamming with my bud Laurent Bernadac on Friday 13th April and Saturday 14th April.
Here are the performance times: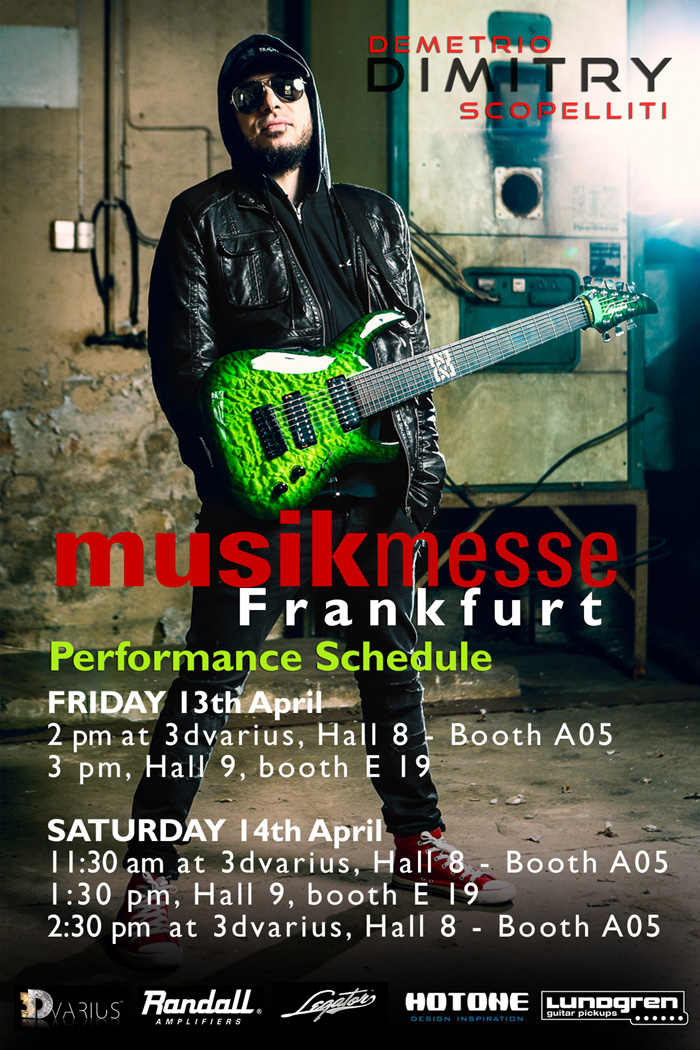 We're gonna surprise everyone with our weird mix between 8 string heavy metal and modern violin based music. You can watch our recent performance at Namm 2018 here.
Going back to my new upcoming album: "The Silent Watcher", I'm currently mixing the album; I have tons of famous and awesome guests (you're gonna be amazed). So far everything is kind of "Top Secret" but as soon as the album will be ready I'll release a press statement and announce and describe the album in details. I would say now the album is at its 80%; it sounds killer in terms of production & musical contents.
Soon my Kemper Profiling Sound Pack will be released. Here you can find the documentary (the making of) of the profiling sessions.
More updates about this topic and much more will be communicated soon on this website.
Stay tuned!