Summer 2023  
Hey folks. Here is what happened in Summer 2023.
Hope this is gonna entertain you. See ya soon with new music and crazy stuff!
---
  Spring 2023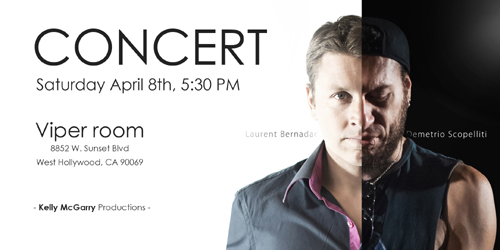 Hey Peeps. Some news from DS Camp here.
Duo Dimitry/Laurent Bernadac will be playing together again in the US in April at Namm.
For those who are not attending Namm the only concert will be a special night at the famous "Viper Room" in Hollywood, CA on April 8th.
For Namm attenders this will be a nice "Pre Namm Kick Off".
See details here.
See ya there...
Dimitry
---
  February 2023  
Hey folks. Here we go with some news.
My latest album has been re-released on December 8th under monicker "Dimitry" with 3 bonus tracks.
You can stream it from all the major music outlets out there or buy CD, digital download & merchandise on bandcamp.
In January I released the official video clip for the song "Deva", single #3, taken from "V".
In February I have been guest at the Italian radio/tv program Linea Rock on the Italian TV "Radio Lombardia".
I had a nice interview with the program conductor Marco and performed a couple of songs live, remotely from my studio in Norway.
Next event is Namm 2023 in April and right after that I'll be completing the album of the duo Scopelliti/Davidsen; the project is described as Stravinsky meets Meshuggah.. 🤪
Make sure to subscribe my YouTube Channel to get at least a video from me every week. It's free!
demetrioscopelliti.com
inspiriaguitars.com
fusioncorerecords.com
skienmusikk.com