Long time since my latest update...
The Frankfurt Musikmesse days have been amazing: all my demos for Hotone Audio were extremely crowded; thanks a lot to anybody who showed up, Hotone audio crew & Gurus amp...
What am I working on?
I am preparing for the shooting of an instructional dvd for chitarraheavy.com
The name of the dvd is "The Art of Shredding".
The course is for advanced level guitar players who want to improve their skills and is basically based on my latest 2 studio releases, my solo album "The art of complications" and Arcadia's latest studio album.
The release date will come with the next update.
On 5 September 2016 I'll release my new single both on YouTube (official video) and Itunes. The song is an Italian cover from the 17th century revisited in a progmetal version.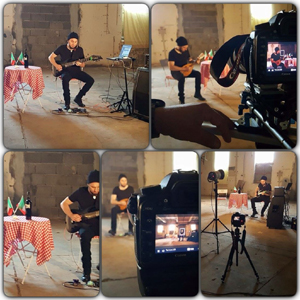 I'm starting tracking demos for the next Arcadia's album; my plan is to have them finished by the end of summer.
Still no news about the label involved in releasing the disk or release date but I believe the entire process will take some time.
Last but not least update:
These are my latest 2 demos for the new Hotone Xtomp, both are Arcadia's song playthrough, "Scarecrows' dance" and "Art of Darkness".
Have an awesome summer!