Happy new year!!!
I am currently on my way to Namm 2020, Anaheim. Ca.
This year I completely packed with performances and demos.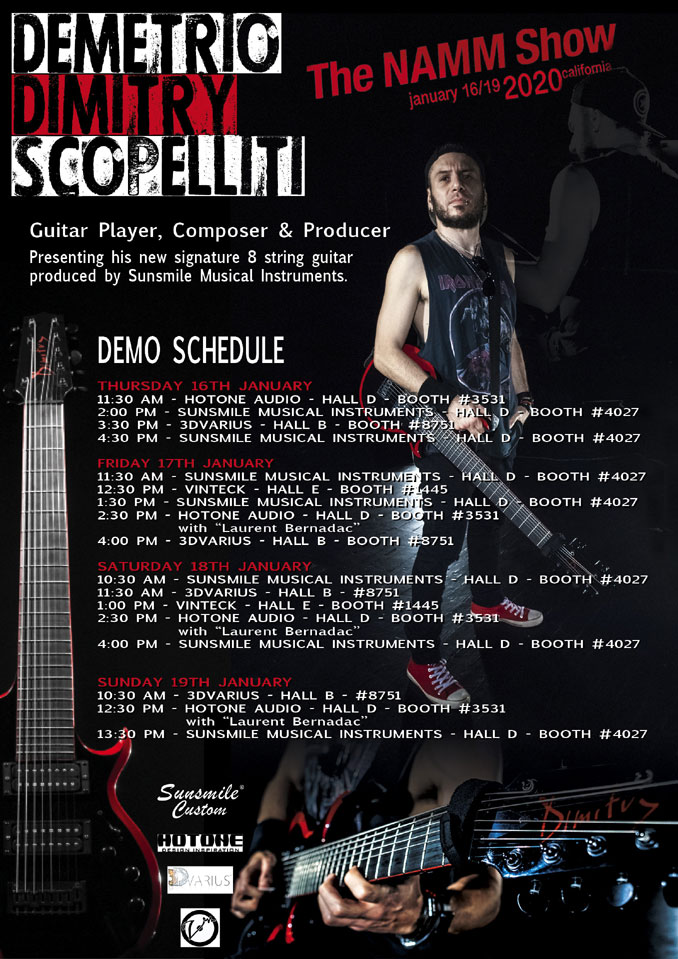 I am gonna demo my brand new signature 8 string guitar. Make sure you check out the demo if you still didn't have a chance.
I'll be demoing the Ampero at Hotone Audio; you'll find me jamming with my French friend Laurent Bernadac at @3dvarius booth and I'll be demoing some awesome new speakers at Vinteck.
I am gonna be all over the place so if you are at Namm feel free to check my performances out or come over to the booths just for hanging out.
This is gonna be an awesome year for me and and all the peeps I play with and for.
On February 9 the new Dammercide album is going to be released, via FusionCore Rec.
Please check out the second single "Spider" on Spotify.
On March 2 the first EP I made with the Norwegian great saxophonist Aina Helgeland Davidsen will be released.
It will be a symphonic mix between 8 String Progressive Metal and Classic Music.
More news to come on this new exciting project.
Also I am currently mixing the "3DVarius" Duo - Live in Norway and signing off the mix of "Ib fra Svartaste Granskauen" with Igor Dunderovic.
Please follow me on my social media and see you around.